Wow. I've been doing a rubbish job at Blogmas. huh? I have a legit reason. I've been full of the winter cold and feeling sorry for myself as you do. But I'm feeling much better, just in time for Christmas!
Some lovers of Christmas and some not, we all have random thoughts going through our minds when it comes to the festive season so why not share my thoughts during the magical time of year.
"Christmas waves a magic wand over this world, and behold, everything is softer and more beautiful" - Norman Vincent Peale
I'm definitely in the spirit of Christmas, for most of it anyway. The build up to Christmas is my favourite part as the day itself goes too quickly but that doesn't stop me from donning my Christmas attire and singing Christmas songs to my hearts content. I love the happiness, the cheer, the lights, the warmth, the colours - everything.
So what are the thoughts I have during the festive season?
Look at those pretty lights!
Everything looks magical, I love it. It's like i'm in a Christmas movie or something.
The John Lewis advert. ITS HERE. CHRISTMAS IS COMING. ITS OFFICIAL
Mum. Mum. Mum. Can I put the decorations up?
When is too early to blast out Christmas songs, I mean I started in late October.
I wonder how much food I can eat this time
Yummy mince pie, gingerbread, Christmas cake and pud. GET IN MY BELLY
There is never enough time for Christmas films
Should I dress my dog up as Santa, reindeer, a snowman or Santa's Elf? Oh the cuteness
Why don't they have anything for cats!? Tinsel collars?
I hope we have a white Christmas.
How many is too many Christmas jumpers?
Waking up in the morning singing 'TIS THE SEASON TO BE JOLLY Fa-la-la-la-la, la-la-la-la'
Can i walk around with baubles and tinsel just to show my sheer excitement for Christmas?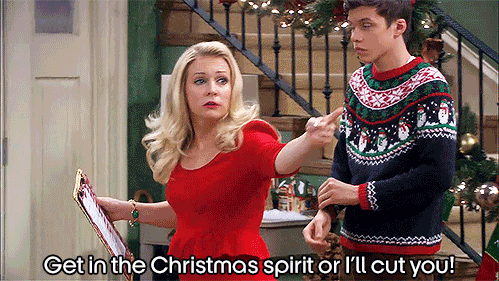 Why does Christmas come and go. I need more festivities. I BREATHE CHRISTMAS
Yes, my dog needs five Christmas jumpers. The world is his catwalk.
Time to binge watch all the Christmas films.
Is it Christmas yet?
Since when did children need a shopful of presents ugh, they only play with about 5
Is it socially acceptable to listen Christmas songs and watch Christmas films?
How many times can i watch Elf and Love Actually?
Yay for cute ugly Chrimbo jumpers
How many presents is too much for the animals? Those cute buddles of fluffy joy
It's Christmas time! Time to spread Christmas cheer
** Internal Screaming ** Are those Christmas decorations?
Time to listen to Michael Buble and Kelly Clarkson's Christmas album for the 100th time
Lets rock this burgundy lip and Christmas jumper
Why haven't I been to a Christmas market, like ever!? I should probably put that on my list of things to do in 2018.
Mmm Festive Starbucks drinks. YUM
Is there really such a thing as too much chocolate
Quality Street, Celebrations and other boxes of Xmas chocs are calling my name
Advent chocolate can be classed as breakfast right?
So how can i stay sane for a couple of days and be in the Christmas spirit?
How many episodes can i binge watch before I go back to college?
Christmas movies are so much better than real life, yay for Hallmark
Wish Christmas could last just a bit longer!!
I just want to cuddle with all the animals in shelters this time of year.
Call The Midwife special is here, get ready for the tears. It's going to be an emotional roller coaster
Is it possible to see some reindeer and feed the carrots?
Seriously though, kids are beginning to annoy me more and more as Christmas comes along...
Oh look, MINCE PIES!
Why don't we have a Hallmark Channel over in the UK, i need my cheesy and cute Christmas movies
It's not really Christmas without munching on a Terry's Chocolate Orange.
Oh the smell of gingerbread and cinnamon YUM
My favourite activity is walking inside and putting on pajamas. Heaven
As much as I love receiving and giving presents. Christmas needs to stop being about that.
I'm embracing my inner Scrooge ish
Lets skip Halloween and dive into the Christmas cheer
I'm already looking forward to Christmas 2018.
Lets kick 2018's butt.
Twitter
Bloglovin
Tumblr
Pinterest