It's no secret how much I love Christmas. Since i was young i've been obsessed with the festive season - singing and dancing along to Christmas music, looking at the Christmas lights with awe and wonder. Soon as Halloween has gone (YAY), the festivities start. The holiday season is, without a doubt, my favourite time of the year. I enjoy embracing the season much to some people's annoyance
The sights, the smells, the magical feeling in the air. Love.it.all. While I try and hold myself back from heading into full-blown Christmas mode until the first of December, I'm usually more than ready to go by around mid-October. What can I say? I'm a sucker for the Christmas spirit. I dive right in!
Don some festive pyjamas.
Ever since I was young, it's a tradition to get festive jammies on Christmas Eve from my lovely nana. Cosy, cute and festive pyjamas is a must. To be honest i've been wearing my xmas pj's from last year since November, and nobody is stopping this festive fairy.
Listen to Christmas music… and sing along!
One of the first things I do is play Christmas music. With my playlists ready to go, i'm jamming to all the festive songs. There's nothing like a bit of music to help get you the mood. The warm and fuzzy Christmas feelings. Of course as I'm writing this post, i'm listening to my Christmas playlist. Because as Buddy the Elf has wisely instructed us, "The best way to spread Christmas cheer, is singing loud for all to hear."
Putting up the tree and decorations.
I love love love twinkly lights and decorating the tree with pretty tinsel, baubles and of course lights. They help to remind me that Christmas is well and truly on its way! I'm loving our decorations this year. There's something about the twinkling lights and glimmering star that make Christmas seem so magical, even though my belief in a fat old man giving me presents has faded.

Binge watching Christmas movies
There is just something about Christmas movies that really puts me in a good mood. Whether it's a comedy or a romantic movie, if it's Christmas-related then I am all for it. I could watch these movies all year-round if I could, even if their are cheesy. Let's not forget Christmas episodes of our beloved shows too.


Get out my Christmas jumpers
Or buy more, I love everything from gingerbread men, snowflakes and baubles to Rudolph and sparkles. There is nothing quite like the cosiness you feel wearing your favorite festive jumper, the cosier the better!

Make festive treats
There is nothing i love more than getting into Christmas spirit baking mince pies and sausage rolls (and other festive treats) , it is a bit of a family tradition in our household and also make my nana's famous Christmas cake with loads of yummy marzipan.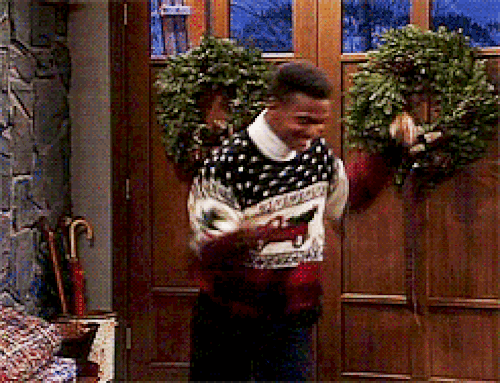 How do you get into the Christmas spirit? What is it you do to during the lead up to Christmas that makes you feel oh so Christmassy?
Twitter
Bloglovin
Tumblr
Pinterest