One Tree Hill was so relatable, still is. So many moments, characters and quotes spoke to us on a personal level and in a way guided us through some rough times. It's bought many life lessons during the time it aired.
With the help of the characters, whose lives the series follows, we learn how to overcome our fears and tribulations and how to embrace life as it is with its many obstacles. With the array of relatable situations, it's hard not to find solutions to your problems with the amazing lessons this television program brings about growing up and having to deal with the changes life throws to us. I think that's what makes the show so loved and special to so many people - me included. It's no lie i had the biggest crush on Chad Michael Murray (and still do).
So here are my favourite most honest and relatable One Tree Hill quotes .
1. "Because it's only when you're tested that you truly discover who you are. And it's only when you're tested that you discover who you can be. The person that you want to be does exist, somewhere on the other side of hard work and faith, and belief and beyond the heartache and fear of what life has." - Lucas Scott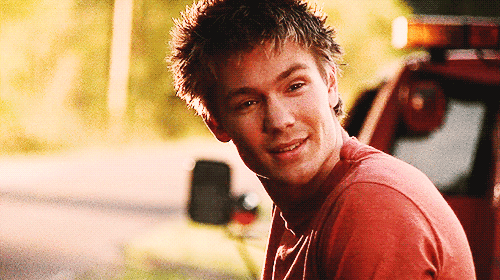 2. "I've been there. I wanna tell you, it gets better. That pain in your stomach, that pain in your heart, it goes away. That voice in your head that's saying there's no way out, it's wrong. Would you please, please just believe me? It gets better." -Keith Scott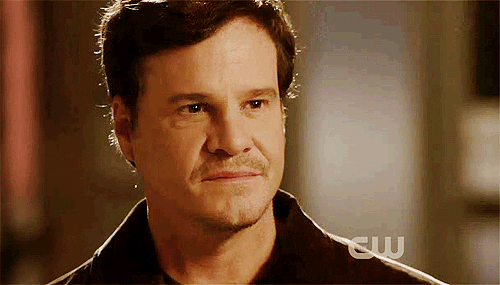 3. "Life kicks you around sometimes. It scares you and it beats you up. But there's one day when you realize you're not just a survivor, you're a fighter. You're tougher than anything life throws your way. And you are." - Brooke Davis
4.
"
The rest of your life is a long time and whether you know it or not, it's being shaped right now. You can choose to blame your circumstances on fate, or bad luck, or bad choices, or you can fight back. Things aren't always gonna be fair in the real world, that's just the way it is. But for the most part you get what you give. The rest of your life is being shaped right now with the dreams you chase, the choices you make, and the person you decide to be. The rest of your life is a long time and the rest of your life starts right now.

" - Haley James Scott
5. "Sometimes pain becomes such a huge part of your life that you expect it to always be there. Because you can't remember a time in your life when it wasn't, but then one day you feel something else. Something that feels wrong, only because its so unfamiliar. then in that moment you realize you're happy." - Lucas Scott
6. "Because sometimes you have to step outside of the person you've been and remember the person you were meant to be. The person you wanted to be. The person you are." - Marvin 'Mouth' McFadden
7. "Someone trying to find their way. Someone trying to find their place. Someone trying to find their self. Sometimes, it's easy to feel like you're the only one in the world who's struggling, who's frustrated, or unsatisfied, or barely getting by. That feeling is a lie. And if you just hold on, just find the courage to face it all for another day, someone or something will find you and make it all okay, because we all need a little help sometimes, someone to help us hear the music in the world, to remind us that it won't always be this way. That someone is out there, and that someone will find you." -Lucas Scott
8. "Now is the time for all of us to become the people we have always dreamed of being. This is your world. You're here. You matter. The world is waiting." – Haley James Scott
9. "There are moments in our lives when we find ourselves at a crossroad, afraid, confused, without a roadmap. The choices we make in those moments can define the rest of our days. Of course when faced with the unknown, most of us prefer to turn around and go back." - Lucas Scott
10. "At this moment there are 6,470,818,671 people in the world. Some are running scared. Some are coming home. Some tell lies to make it through the day. Others are just now facing the truth. Some are evil men, at war with good. And some are good, struggling with evil. Six billion people in the world. Six billion souls. And sometimes — all you need is one" - Peyton Sawyer
11. "I've come to the conclusion that if having things turn out the way you wanted them to is a measure of a successful life, then some would say I'm a failure. The important thing is not to be bitter over life's disappointments. Learn to let go of the past. And recognize that every day won't be sunny, and when you find yourself lost in the darkness and despair, remember it's only in the black of night you see the stars. And those stars will lead you back home. So don't be afraid to make mistakes, to stumble and fall, cause most of the time, the greatest rewards come from doing the things that scare you the most. Maybe you'll get everything you wish for. Maybe you'll get more than you ever could have imagined. Who knows where life will take you. The road is long and in the end, the journey is the destination." – Coach Whitey Durham
12. "Every day we ignore how completely broken this world is and we tell ourselves it's all going to be okay, you're gonna be okay. But it's not okay. And once you know that, there's no going back." - Haley James Scott
13. "When your heart breaks, you got to fight like hell to make sure you're still alive. Because you are. And that pain you feel? That's life. The confusion and fear? That's there to remind you, that somewhere out there is something better, and that something is worth fighting for." - Nathan Scott
14. "I think eventually we learn to define happiness for ourselves on our own terms, in spite of the pain other people have caused us." - Haley James Scott
15. "Do not let your fire go out, sparked by irreplaceable spark. And the hopeless swamps of the not quite, the not yet, and the not at all. Do not let the hero in your soul perish. And lonely frustration for the life you deserved but never been able to reach. The world you desire can be won. It exists. It is real. It is possible. And it is yours." - Lucas Scott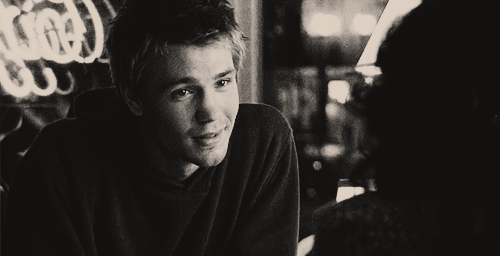 16. "Every once in a while, people step up they rise above themselves sometimes they surprise you and sometimes they fall short. Life is funny sometimes. It can push you pretty hard, but if you look close enough, you can find hope." - Nathan Scott
17. "There comes a time when every life goes off course. In this desperate moment, you must choose your direction. Will you fight to stay on the path, while others tell you who you are? Or will you label yourself? Will you be honored by your choice? Or will you embrace your new path? Each morning, you choose to move forward, or to simply give up." - Lucas Scott
18. "You need to learn to let go of whatever it is that makes you think you're not good enough. 'Cause that's when you beat this, when you learn that you matter." - Marvin "Mouth" McFadden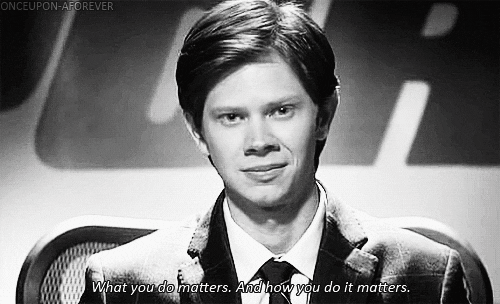 19 "It's not about what you say, its about what you do. You don't like the person you've become then do something about it, because no one's gonna do it for you." - Peyton Sawyer
20. "Have you ever wondered what marks our timing? If one life can really make an impact on the world? Or if the choices we make matter? Sometimes in order to move forward, you have to go back. In this case, just a few minutes.
Have you ever wondered what marks our timing? If one life can really make an impact on the world? Or if the choices we make matter? I believe they do. And I believe that one man can change many lives... for better, or worse." - Lucas Scott
21. "And once you lose yourself, you have two choices: find the person you used to be... or lose that person completely.
Because, sometimes, you have to step outside of the person you've been. And remember the person you were meant to be. The person you wanted to be. The person you are." - Peyton Sawyer
22. "It's the oldest story in the world. One day you're seventeen and planning for someday, and then quietly and without you ever really noticing, someday is today and then someday is yesterday and this is your life." - Nathan Scott
23. "So, I've been thinking about this whole being happy thing, and I feel like people get lost when they think of happiness as a destination. We're always thinking that someday we'll be happy; we'll get that car or that job or that person in our lives that will fix everything. But happiness is a mood, and it's a condition, not a destination. It's like being tired or hungry, it's not permanent. It comes and goes, and that's okay. And I feel like if people thought of it that way, they'd find happiness more often." - Julian Baker
24. "It doesn't matter how you plan it. It doesn't matter how you envision it. Without even knowing it, sometimes life has a way of finding you with exactly what you need. Or exactly who you need." - Quinn James
25. "Choosing the right path is never easy. It's a decision we make with only our hearts to guide us. But sometimes we find our way to something better. Sometimes we fight through the regret and the remorse of our mistakes, our malice and our jealousy and the shame we feel for not being the people we were meant to be. And that's when we find our way to something better. Or when something better finds us." - Dan Scott
26. "Most people are stronger than they know, they just forget it sometimes." — Keith Scott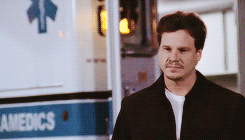 27. "There's no shame in being afraid. Hell, we're all afraid. What you gotta do is figure out what you're afraid of because when you put a face on it, you can beat it. Better yet, you can use it." —Whitey Durham
28. "People just go through things, challenges that make them stronger." - Nathan Scott
29. "When you stop fighting, you stop living. So.. Find your fight. Then fight like hell 'til your battle has won." ― Peyton Sawyer
30. When life comes rushing at you out of the darkness who will you choose to face it with? Will it be someone you trust? Will they be wise? And will their love for you help them to guide you to the light, or will they lose their way in the darkness? Will they make noble choices? Or will that person be untested, someone new? Life comes rushing at you from out of the darkness. When it does, is there someone in your life you can count on – someone who will watch over you when you stumble and fall, and in that moment, give you the strength to face your fears alone? - Lucas Scott
31. "You think you know me, but you don't, and that means you don't know what I can do. You see me as someone who's popular and has all the answers, but that's not true. I may not always know what I'm doing, but I'll try to make things better ... I cant do this alone, and if you'll take the chance on me, we can do great things together. I promise, if you believe in me, I'll find the courage to reach for your every dream." - Brooke Davis
32. "Life is short and opportunities are rare. And we have to be vigilant in protecting them and not only the opportunities to succeed but the opportunity to laugh, to see the enchantment and to live. Because life doesn't owe us anything -- in fact I think we owe something to the world." - Haley James Scott
33. "Happiness comes in many forms—in the company of good friends, in the feeling you get when you make someone else's dream come true, or the promise of hope renewed. It's okay to let yourself be happy because you never know how fleeting that happiness might be." —Lucas Scott
34. "I just tell myself to be happy. But I don't feel happy. And when I try to change it, when I try to remember what being happy felt like, I can't. I don't feel joy. I don't feel inspired. I just feel numb." — Haley James Scott
35. "We spend so much time wanting, pursuing, wishing. But ambition is good, chasing things with integrity is good, dreaming. If you had a friend you knew you'd never see again, what would you say? If you could do one last thing for someone you love, what would it be? Say it. Do it. Don't wait. Nothing lasts forever. Make a wish and place it in your heart. Anything you want, everything you want. Do you have it? Good. Now believe it can come true. You never know where the next miracle's going to come from, the next memory, the next smile, the next wish come true. But if you believe that it's right around the corner, you open your heart and mind to the possibility of it, to the certainty of it, you just might get the thing you're wishing for. The world is full of magic. You just have to believe in it. So make your wish. Do you have it? Good. Now believe in it with all your heart." - One Tree Hill Cast
Do you love One Tree Hill like i do. What is your favourite, relatable quote from One Tree Hill?