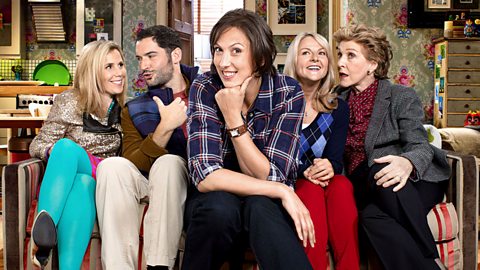 Miranda brings me quite a bit of joy, the jokes just makes me laugh days on end. We all have a little bit of Miranda in us - a socially awkward woman who finds herself singing when she or other people accidentally talk in song lyrics, the woman in love with her best friend from university. The enthusiastic about everything woman. The woman who doesn't believe other can love her because she has trouble loving herself. She is you. She is me. She is very real and that's why we love her. Miranda Hart is phenomenal.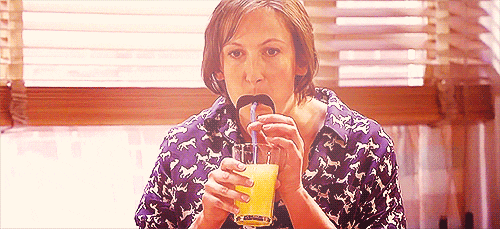 Miranda is surrounded by her wonderful from her Heather Small singing bestie Stevie to the love of her life dishy chef, Gary. We all have/want a friend as fun as Stevie & a lovely man like Gary who we love. Lets not forget Miranda's over bearing, over meddling 'Such Fun' mother Penny and posh friend who talks gibberish, Tilly.
On to the lovely relationship that is Miranda & Gary. I've rooted for these two pretty much since series 1, i guess everyone did right? - how could you not, they are absolute dorks together. Who aren't as different as you would imagine they'd be, you realise Gary loves Miranda as much as she loves him and you know it couldn't be any other way: they're each others "the one" and it feels wrong if they aren't together. Miranda & Gary Forever
The show left on a happy note, like you'd expect it to - Miranda addresses her audience, like she always does at the beginning of every episode, i hope to see this lovely sitcom back on our screens in the future and soon because this sitcom was awesome to watch. i will keep my inner child above the surface, i can enjoy galloping, people with funny names, fruit friends and of course sing song lyrics when someone inevitably talk in song lyrics. I will always find the euphemism in everything and to remember sometimes just needs to be jollied.
here's a wonderful quote by the lady herself: "We are all unique, which makes us beautiful; so never despair, and just chill the hell out about it all."
— Miranda Hart - Is It Just Me?
Stay Awesome!